Sr. Jecinter Antoinette Okoth, FSSA
Pope Francis has donated US$ 75,000.00 to local population in South Sudan's Malakal Diocese who have been affected by floods in the past months heightening their need for humanitarian support.
In a press release published Monday, October 4, the Dicastery for Promoting Integral Human Development (PIHD) disclosed the financial support offered by Holy Father saying, "Following the heavy rains and devastating floods that hit South Sudan last August, displacing over 12,000 persons and causing the damage or destruction of 6,000 homes and extensive material damage, Pope Francis…has decided to send US$ 75,000 as a contribution to emergency activities and programs to sustain the population in the hard-hit diocese of Malakal.
The Dicastery notes that the financial contributions to Malakal Diocese is "intended to express Pope Francis' feelings of spiritual closeness and paternal encouragement to the people and territories affected."
Besides the humanitarian support, reads an excerpt of the Monday statement from the Dicastery "prayers accompany the aid that is being activated throughout the Catholic Church, which also involves numerous charitable organizations."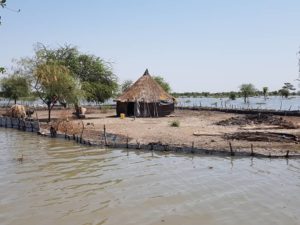 According to report, "seasonal rains have caused rivers to overflow their dykes and banks, flooding vast areas and settlements across the top of the country, with more heavy rains and flooding expected.
In mid-September, the United Nations (UN) reported the existence of water-logged areas "creating additional hardship for people already suffering as the result of sporadic fighting between community militia groups as well as persistent cattle-raiding. People have lost their crops, livestock and their homes and don't have the income to support themselves, let alone rebuild their lives."
Last year, the same effect of heavy rains affected parts of the world's youngest country and caused floods and displaced several people which leaders of the South Sudan Council of Churches reported that  700,000 highly vulnerable people were displaced by the worst floods in sixty years destroying food crops and livestock, and damaged houses, water points, pit latrines, and school shelters while Livelihoods destroyed and populations affected and unable to access basic services.