Sr. Jecinter Antoinette Okoth, FSSA
Representatives from the Secretariat of the Association of Member Episcopal Conferences in Eastern Africa (AMECEA), after three-day visit to the Catholic Bishops' Conference of Ethiopia (CBCE) following the ongoing conflict in Tigray region, have narrated that their trip was a sign of solidarity meant to brainstorm on the best ways possible to restore peace in the country.
Speaking to AMECEA online Thursday, September 9, the Secretary General Fr. Anthony Makunde expressed that the brainstorming session with CBCE Secretariat was to help understand "how best the region can engage in the process of healing the suffering community."
"It was an opportunity to share how best we can collaborate and engage Member Conferences in the process of restoring peace," Fr. Makunde explained adding that "the Church has always preached the gospel of peace and that war has never been a solution to problems."
He appealed to people of good will and the entire AMECEA Church and beyond to continue praying for peace and to join hands with various partners offering humanitarian assistance to the internally displaced and those in refugees camps.
According to Fr. Paul Mung'athia Igweta the AMECEA Coordinator for the department of Promoting Integral Human Development (PIHD) who was in the team, "the support and physical presence in Ethiopia is key to show solidarity with the people and the Conference," especially during the prolonged war between Ethiopia's Federal Government and the Tigray regional State led by the political party of Tigray People's Liberation Front (TPLF).
Fr. Igweta highlighted that the situation in the horn of Africa requires dialogue and understanding from the affected parties.
"The conflict cannot be solved by a military solution but dialogue, that is, the two parties coming together and making a way forward for the betterment of Ethiopia," Fr. Igweta explained.
He appreciates the efforts already made towards peace building by the Catholic Church together with other members of Inter-Religious Conference of Ethiopia (IRCE) including among others Muslims, Orthodox and Seventh Day Adventists (SDA).
Fr. Igweta who visited the Conference together with AMECEA Secretariat's Child Safeguarding Officer Mr. George Thuku, disclosed that "AMECEA stands to condemn evil in the region and promote peace among its members."
In a report shared by the CBCE after the AMECEA visit with His Eminence Berhaneyesus Demerew Cardinal Souraphiel, "…all exhaustive attempts have been made… to bring about reconciliation and peace among different parties in the country."
According to the report, Cardinal Souraphiel the CBCE President underlined the role of the Catholic Church in peace building and reconciliation processes saying, "The Catholic Bishops Conference of Ethiopia issued a number of statements promoting dialogue, peace and reconciliation, calling on all the faithful and people of good will to be instruments of peace."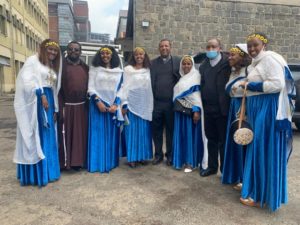 Besides, read the report in parts, "The Church has played a significant role to mobilize humanitarian assistance, coordinating various emergency appeal projects in collaboration with its partners."
The Cardinal, a member of the Congregation of the Mission, emphasized that Ethiopia will overcome all the internal and external "temporary" challenges using her shared traditional religious values that keeps the country always united."
The Cardinal who is also president of the Truth and Reconciliation Commission in Ethiopia asked AMECEA bishops "to play a part in any possible form of assistance on peace building, reconciliation and post-trauma healing processes" and "urges the Member bishops to convince their respective Heads of States to use their constructive influence to help the country."
The Deputy Secretary General of the Secretariat Fr. Gabriel Woldehanna who was present in the meeting, reported that the conflicts in different parts of the country have affected the lives and wellbeing of the people, many of whom have "lost their lives – some displaced while public, church and private assets have been destroyed and looted."
The AMECEA representatives assured CBCE of continued prayers from the region and the willingness to "take active part in peace building, reconciliation and psycho-social healing process."