Sarah Pelaji
The President of the United Republic of Tanzania HE. Samia Suluhu Hassan has declared that there are Covid-19 patients diagnosed in the country in a third wave of the disease and urged religious leaders to tell believers to take precautions.
President Samia stated this on Friday, June 25 when addressing the bishops Conference (TEC) at the Catholic Secretariat in Kurasini, Dar es Salaam.
This is the first time for the government of Tanzania to openly report the prevalence of the pandemic in the country since May, 2020.
Without giving any statistical data, she said since prevention is better than cure it is important for people to continue to use whatever is prescribed to prevent the pandemic in a bid to prevent the nation from numerous deaths.
"I know that from the beginning the Catholic Church has had a strong position in the fight against this disease. We have entered the third wave and signs in the country are visible. We already have patients who have been diagnosed," she revealed.
President Hassan explained that when she visited Mwananyamala Hospital in Dar es Salaam recently she found patients with this sickness characteristic of the third wave.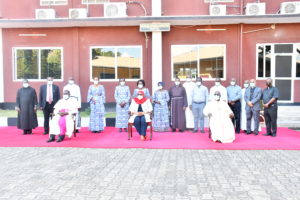 He noted that the Catholic Church from the beginning of the first wave has been in front line to the fight against the spread of Coronavirus and urged bishops continue reminding the faithful to protect themselves and take all precautions as directed by health experts in the country and worldwide.
President Hassan emphasized that since prevention is better than cure, citizens should not stop using everything that will protect them from these diseases to prevent group deaths adding that is it is widely known worldwide, right now there is a third wave of the Coronavirus and Tanzania too is in the third wave.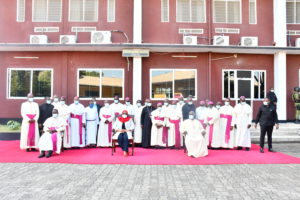 "Signs are locally already visible. In spite of all this, it is also good to pray to God to continue to protect us and give us protection from disease, especially this Coronavirus pandemic because He is the omnipotent," she said.
However, President Samia called on citizens to be vigilant, urging religious leaders to take appropriate action and educate the public on Covid 19 and its precautions.
Quoting Psalm 91: 4 and Jeremiah 33: 6 President Samia said, "With all the protective measures and scientific methods we will use, let us not forget the return of our Creator God, and ask Him to save us from this tragedy. "
She appreciated Catholic Church for being in the forefront to offer social services among communities in Tanzania especially in the education and health sectors and other services like water, electricity etc.