Demetria Banda
As the Catholic church celebrates Laudato si week (LSW) from 16 to 25 May 2021 under the theme "For We Know That Things Can Change", we had a chance to interact with Fr Abraham Paul the Parish Priest of Tsangano Parish in the Diocese of Dedza, who is doing well in caring for the environment through planting and caring for Trees in his community.
Tell us about yourself
I am Fr. Abraham Paul, the Parish Priest of St. Teresa Catholic Parish, Tsangano, in the Diocese of Dedza. I was born on 19 July, 1985. I am from Chilungaminga Village, Traditional Authority Tambala, Chiphwanya St. Joseph Parish, in the District of Dedza. I joined seminary formation in the year 2006 and I was ordained a priest on 8 August, 2015.
What inspired you to start planting and caring for trees?
In 2015 when I was ordained a priest, the Pope released an encyclical that powerfully invited everyone to care for the environment. During a meeting of all priests, (the Presbyterium meetings), the diocesan authorities stressed on the need to seriously implement the Pope's call for the care of environment in our parishes. So, having seen that we are always depending on trees for everything including timber, food, shelter as well as oxygen I felt that our careless usage of trees is at the same time a destruction of what we depend on.
When did you start planting trees?
I started doing this in 2015, whereby I bought 30 tree seedlings and planted them in the month of December. The serious tree plantation started with tree breeding nurseries in the year 2018 where we had 16,000 pine tree seedlings and planted 14 000 trees in the month of January in the parish land. From that time, we have been making nurseries of pine and blue gum trees to plant every year, whereby some of them are planted in the out-churches, and other trees are given to the altar boys and girls and the youth group to plant their own in their villages.
How many trees have you planted so far?
The actual amounts of trees that we have taken care of and they are growing are 23 000 pines, 8 mibawa trees and 11,000 blue gum trees.
How did you manage to plant all those trees?
It has been possible to plant all these trees because I realized that it could be too expensive to buy and transport these tree seedlings, hence I had to come up with tree nurseries within our parish compass. This simplified the work. The engagement of the youths and Christians in plantation, enabled us to plant a lot of trees.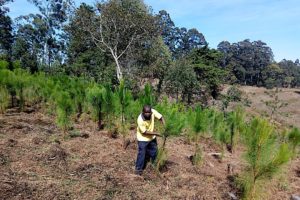 What challenges do you face?
The initiative having no immediate benefits, could not be supported by the parish council who considered it as wastage of parish funds. This attitude forced me to use personal resources.
What is your goal?
My goal is to establish a forest for each and every parish, and encourage every Christian family to have its own plot of trees.
What is your view on climate change?
My view on climate change is that it has been caused by carelessness in the way we manage the environment such as the cutting of trees, bush fires and the smoke from factories. These are destroying the ozone layer in the atmosphere and consequently disturbing climatic patterns. In my opinion, the Church should be in the forefront in fighting against climate change considering that its members are the very victims of environmental degradation. Teaching or mere talking about tree plantation is not enough. When Church leaders practically plant trees, many people to do the same. In fact, many people here including non-Catholics have started planting their own trees having learnt from us at Tsangano Parish.
Do you have any special message to Church leaders and the people of God?
The negative consequences of environmental depletion are a threat to our own livelihood. It is my advice to everyone to stop these bad practices and begin to engage positive behaviours such as tree plantation. Also, civil authorities should speed up the efforts of coming up with alternative sources of energy so as to eventually stop the use of charcoal and firewood.
As Pope Francis teaches us, the world is our common home. Let us all strive to make it a favourable place for everyone now and the future generations, and may planting of trees remain instrumental to creating such a conducive living condition.