Luke Bisani
The Catholic Relief Services (CRS) in Malawi has expressed satisfaction with the Cash Transfer Programme that aims at empowering vulnerable people in the country.
Speaking during a public lecture at the Catholic University of Malawi last week that was organised under the theme, "Sustainability in the context of Social Protection: Catholic Relief Services Programmatic evidence", CRS's Technical Advisor for Agriculture and livelihood, Mr. David Munthali said the Cash Transfer has been a great programme in reaching people in the society.
Munthali added that the programme has been giving dignity to beneficiaries and helped them to have the freedom to do what they want with the money they receive when they are in need of help.
"If we are looking at cash transfer programming as a methodology of helping the communities, it has worked. This is because we are saying, if we have the market and the political and community acceptance which we have in this country, if people are trained on the use of money, it is working," said Munthali
He further added that the programme has helped in reaching people with support in rural communities that have poor road networks in the country as they empower them with money to buy what they need in their situation than the donor buying materials for them.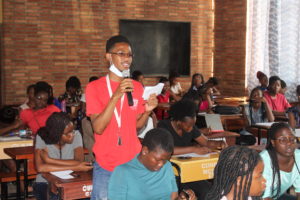 During the public lecture, CRS disclosed that they use purposeful selection of target communities and participatory wealth ranking to empower the people who are vulnerable with some cash.
The Catholic humanitarian aid organisation further disclosed that in the country, they have been using the Ultra-Poor Graduation Approach, as a holistic solution to identify the most destitute households and place them on an upward trajectory out of poverty for their programmes.
The public lecture at the Catholic University of Malawi brought together staff members and students from the seven faculties under the university.
CRS team commended the students and staff for the good patronage, questions, clarifications, and comments made during the public lecture.
CRS begun working in Malawi in 1997 at the invitation of the Episcopal Conference of Malawi (ECM). Its areas of intervention include the agriculture sector, emergency response and recovery, food security and livelihoods, health, nutrition, education, microfinance, water security, partnership, capacity strengthening and the youth.