Luke Bisani
The Catholic University of Malawi on Thursday this week, launched the first ever Diploma program on Adult Learning and Education (ALE) in the country, as a way of creating favourable conditions for empowering adults to become global and productive citizens.
Speaking at the launch, the Director of Academic Affairs at the University Rev. Fr. Dr. Wilfred Sumani SJ said the new Diploma program in Adult Education and Development will help ease challenges faced by adults in accessing quality education in the country.
Fr Sumani explained that Adult Learning and Education in the country is still marred with challenges, among them being lack of professionalization of the sector and a restricted understanding of the scope of adult education to mean basic literacy and numeracy.
"Today, however, there is a flicker of hope – hope that, with the launch of the Diploma in Adult Education and Development, the adult learning landscape will be propped onto a new trajectory," said Fr Sumani.
He added that the University has strived that a new program in adult learning and education responds to real and pressing needs of the Malawian community through extensive consultative process that started in 2017.
Minister of Gender, Community Development and Social Welfare Hon. Patricia Kaliati has commended the University for efforts of formalizing adult learning and education in the country through the program.
"From now, those people that are to be taking part in adult literacy program will be professionals and that will take us a long away because they will be using standardized curriculum and men and women will be encouraged to take part," said Kaliati.
She added that government has noted the University's seriousness in adult education and ensures support through her Ministry for effectiveness of the program.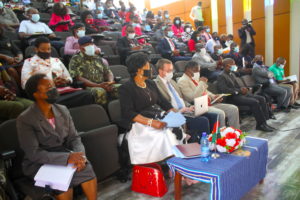 The Minister further urged other institutions of higher learning to follow steps taken by the University on adult education to narrow the gap that is there between those that are illiterate and literate in the country.
With technical and material support from the DVV International, the Catholic University of Malawi has introduced a new program that will help in widening the scope of adult education beyond providing literacy skills.
DVV International has since donated computers, projectors and books worthy K10.8 million to the University to help in teaching the first cohort of students who are to become professionals on adult education in the country.
The new diploma is being housed in the faculty of social sciences comprising of Anthropology, Community Development, Development Studies, Economics, Political Leadership and Social Work to stem from various disciplines.
The Catholic University of Malawi has over forty programs offered at undergraduate and postgraduate levels.