Sr. Jecinter Antoinette Okoth, FSSA
As Kenya commemorates the 55th World Communications Day, Chairman of Social Communications at Kenya Conference of Catholic Bishops Rt. Rev. Obanyi has challenged journalists to go out on the streets and interact with peoples at the grassroots level.
"Communication is about encountering people in their situation where they are," Bishop Joseph Obanyi Sagwe of Kenya's Kakamega Diocese said while presiding over Holy Mass at St. Joseph Cathedral in Kakamega adding, "As journalists, we come into people's lives, report about their circumstances, their life situations and tell their story from what we see."
"The Church must go to the peripheries," Bishop Obanyi the Chairman of the Commission for Social Communication of the Kenya Conference of Catholic Bishops (KCCB) emphasized and referenced Pope Francis' message for World Communications Day saying, "Communicators are invited to hit the streets, which means they are to go out and discover."
He added, "Take your cameras, take your pen and your paper and go to the situation of the people, discover the life people live and write from what you see and experience… for journalists should help us discover the reality of the world."
The annual celebration of World Communications Day which was decreed by the Second Vatican Council and was first commemorated by Pope Paul VI in 1967 and is aimed at encouraging the Church to reflect on how the Church can best use the modern means of social communication to promulgate the Gospel.
Celebrated under this year's theme; "Come and See," Bishop Obanyi emphasized on communicating and encountering people where they are and as they are.
He echoed Pope Francis' message for the 55th World Communications Day, warning on the danger of modern reporting saying, "Let us not be confined to the newsroom where we generate dry and stale information that is incapable of grasping the truth about humanity."
Rather, Bishop Obanyi advised, "Let us harness technology to go out and discover," (and) Let us go out and encounter the people in their sufferings, joys and sorrows, in their celebrations of life and faith, then we shall be authentic and have reached what God wants for us, let us see and let us share Jesus Christ in our communication."
The Bishop chairman for Social Communication disclosed further that the Catholic Church in Kenya and worldwide considers communication as a tool for spreading God's Word and that through the modern technology, "the media can help us reach out to the whole world so people may know Christ and be saved."
He appreciated the work of Parish Communication Agents (PCA) in Kakamega Diocese for always disseminating information that comes from the grassroots for different groups in the Church.
"Parish Communication Agents are important people in the life of the Church. Through them we have continued to grow in awareness as they provide us with available information at the level of Small Christian Communities (SCCs) and in families," he said and cautioned all Christians to beware of fake news and media propaganda.
"All of us are responsible for the communications we make, we are all in control of every fake news we generate since we all have tools for communication in our hands; the smartphones," the Bishop warned and underscored, "Let us avoid fake news, propaganda and misinformation," knowing that the "Challenge that waits all of us is to go out and encounter the people in their life situation then we shall be authentic."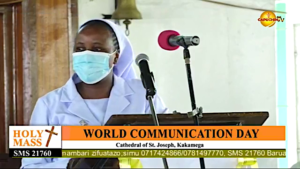 Speaking during the same event the Communications Coordinator of Nakuru Diocese Sr. Michelle Njeri OSF reiterated Bishop Obanyi's call on all journalist "we are to go beyond the dioceses and go to the parishes, out stations and Small Christian Communities to evangelize."
Sr. Njeri reminded the journalists that "they are called to be ambassadors" hence news verification is key.
She also encouraged Christians to support the sustenance of the Catholic media and at the same time urged the PCA members to "cooperate with communication office of the diocese and give visibility to the Church in Kakamega, in the country and in the whole world."