On the occasion to mark the 190th birthday of the founder of Comboni Family and the first Catholic Bishop of Central Africa Saint Daniel Comboni, the Apostolic Nuncio in Kenya has encouraged members of Comboni congregations never to surrender in their apostolic ministries as they emulate their founder whose missionary zeal inspired many lives.
Addressing members of the Comboni family comprising of Comboni Missionaries of the Sacred Heart of Jesus (MCCJ), Comboni Missionary Sisters (CMS), Comboni Missionaries Secular Institute (ISMC) and the Comboni Lay Missionaries (CLM) on Saturday, March 13, Archbishop Hubertus van Megen who presided over the Holy Eucharist disclosed that the Saint Daniel Comboni was a man full of "youthful vigour and commitment to the Kingdom of God," hence for him there was "no turning back other than to serve Africa or die."
Addressing dozens of congregants who attended the Saturday celebration at Comboni Scholasticate grounds in Kenya's capital Nairobi, Archbishop Hubertus van Megen appreciated members of the Comboni family who dedicate their lives to serve in hardship environments and emulate "their founder who himself had to go through many struggles, not able to find a stone on which to put his head."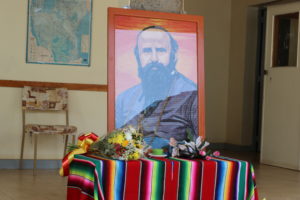 "The beauty of the Comboni fathers and sisters' vocation is that they follow their founder in his patience; they never give up, like their founder who never gave up," Archbishop van Megen said during the homily.
He went on to highlight that "The Comboni family might have to live through difficult situations, might be rejected by authorities or by the local population, the climate might be adverse and means be very little, but they will not give up even where other congregations would leave because life has become too harsh or there is too little cooperation by Church or authorities."
According to the Nuncio, "Members of the Comboni family continue with their missionary work even if there seems to be little sense and little fruit in what they do," echoing their founder who said, "We will have to labour hard, to sweat, to die: but the thought that one sweats and dies for love of Jesus Christ and the salvation of the most abandoned souls in the world, is far too sweet for us to desist from this great enterprise."
Reflecting on the life of St. Comboni who was canonised on 5th, October 2003, and who was confident that Africans will become agents of their own evangelization through the slogan "Save Africa through Africa," Most Rev. Hubertus van Megen narrated the harsh moments faced by Comboni noting, "He might have despaired at some time as he watched helplessly how his companions who were all still so young, died like flies in the oppressive heat of Sudan."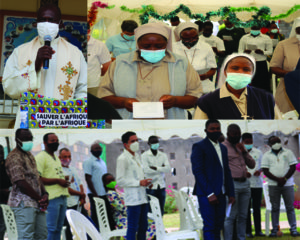 Even though life was not so kind to him, Archbishop van Megen narrated, each and every time the Italian-born Saint returned to Europe, "it became ever clearer to him that Sudan was his vocation, the people of Africa were his parents and that he was called to give his life for his brothers, sisters and children in Sudan."
According to the Nuncio, "The country of Sudan is only for the strong and Daniel Comboni was exceptionally strong. One who had endless energy, continuous flow of ideas, never afraid and always on the road."
In spite of all the resistance, failures and disasters the Saint encountered, the Pope's representative observed that Comboni lived his life true to the words of St. Paul the apostle that "Forgetting what is behind and straining towards what is ahead, I press on toward the goal to win the prize of God's heavenly calling in Christ Jesus."
Speaking on the sidelines of the 190th birthday celebration and reiterating the Nuncio's message, Comboni Missionaries Provincial Superior for Kenya Province Fr. Austine Radol appreciated the Pope's representative for reminding members of Comboni family their "rich vocation."
"The Nuncio has taken us back to our roots, how nice it is to hear about the life of our founder from someone else who is not a Comboni himself," Fr. Radol said referring to the message by his Excellency van Megen who is a diocesan from Netherlands.