Isaac Ojok
The Bishop of Lira Diocese Rt. Rev. Sanctus Lino Wanok has urged Christians to make their homes a sacred place where God's blessings can be received.
In his homily on the 12th Sunday in ordinary time during the virtual Eucharistic celebration on Radio Wa FM in Lira city, the bishop implored the Christians to make their homes the place worthy for them to meet God, receive his blessings and protection during this tough time when the country and the entire world is faced with the hard conditions imposed by Coronavirus.
The Bishop emphasized that the Christians ought to pray for change of attitude and life style, turn to God and ask for forgiveness, mercy so as to have their lives protected in the event that they did not live according to God's will.
The prelate added that in a Christian family, people should refrain from the ordinary routine habit of eating, drinking and of seeking other pleasures and instead make their family e a place where members dedicate time to reflect on the mystery of God's will, love and mercy.
He reiterated that it is timely for Christians to remain focus, refrain from their unwanted routine deeds and cement their broken relationship with God so as to move in right direction.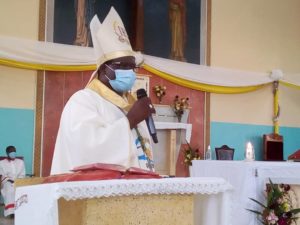 He stressed the need for the Christians to remain obedient to God's ordinances, firm and courageous in the midst of the threats and stressful moment that has come as a result of the debilitating effects of Corona virus in the country.
He reminded the listener to continue observing the standard operating procedures put in place by the country's Ministry of Health to contain further infections of the Coronavirus pandemic.
He emphasized that it is simple for an individual person to do regular hand washing, wearing of face mask, maintaining social distance of at least two meters or three meters in a move to control the rate of covid-19 infections among them, rather than exposing oneself to the virus that has become a burden to the world.
Currently Uganda is battling to contain the second wave of Coronavirus that has hit the country with fear that the second wave of the virus could possibly strain the health system and the economy.