Sr. Jecinter Antoinette Okoth, FSSA
On the occasion to admit 15 seminarians to the ministries of acolytes and lectors at Blessed Bakanja AMECEA College (BBAC) in Kenya's Nairobi Archdiocese, the Secretary General of the Association of Member Episcopal Conferences in Eastern Africa (AMECEA) Fr. Anthony Makunde, encouraged the priests-to-be to appreciate the cultural diversity that exists at the seminary because of students from various countries and cultural backgrounds.
The BBAC is a regional seminary owned by AMECEA and has students drawn from the eight AMECEA member conferences: Ethiopia, Eritrea, Kenya, Malawi, Tanzania, Uganda, South Sudan and Sudan, and from other regions within Africa.
Addressing the seminarians to enrich each other with various cultures Fr. Makunde said, "Use the cultural differences to help you carry each other's cultures and experience to your respective countries."
"The very fact that AMECEA managed to have the facility which should bring people from different countries with different cultures and backgrounds is something that should be meaningful to us," Fr Makunde continued, "That is the whole issue of building a one Church because the Church of Jesus Christ is universal regardless of our difference in cultures, languages and boundaries."
He emphasized further that Bakanja Seminary should help AMECEA bring forth the dream of the founding Fathers and all the bishops in the region ,"of being together, united and able to collaborate in fulfilling the mission of the Church and be a symbol of unity in the secular world."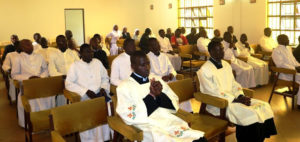 In his address, he reminded the 7 lectors and 8 acolytes who were receiving the new ministries to remember that "The Church is counting on them" and they need to be aware that they are in the seminary not of their own initiative but as a response to God's call.
Speaking to AMECEA online in an interview after the occasion that took place on Friday, March 5, the Rector of BBAC Fr. Peter Moudie Zingari stressed to the seminarians that the ministries of acolyte and lectors are "required steps to holy orders and are significant ministries of service," thus the ministries should be taken "seriously."
He urged the new acolytes and lectors who were from Congo, Kenya, South Africa, South Sudan, Tanzania and Uganda "to put in practice what they have received."
Fr Moudie disclosed that the formators in the seminary are teaching seminarians' lesson on liturgical celebration and administration of sacraments for their preparation to priestly ordination.
Stressing the message delivered by the main celebrant John Cardinal Njue, the rector underscored, "Seminarians have to be instruments of unity in the Church and know that communion is key for it normally produces good results."
Meanwhile narrating the effect Covid-19 pandemic in the formation house, Fr. Moudie said that the number of seminarians has reduced since some could not travel back to the seminary due to Covid-19 restrictions in various countries.
"This semester we have only 24 seminarians from 48 that we had last year. First years are only four; one from South Sudan, Rumbek diocese and three from South Africa," the rector expressed the effect of Covid-19 adding that, "We are hopeful if there will be improvement then we may have more students in the next intake of July-August."
He added, "Last year many of our students were from South Sudan's Tombura Yambio diocese, but come this year, they were not able to be back because of Corona challenges together with seminarians from Kasese diocese in Uganda. But we are grateful that so far our seminarians are safe and we have not had any of them positive of Covid-19."