Sr. Jecinter Antoinette Okoth, FSSA
The Chairman for the Association of Member Episcopal Conferences in Eastern Africa (AMECEA) has on behalf of the bishops in the region expressed solidarity with members of Zambia Conference of Catholic Bishops (ZCCB) following the death of their founding President Kenneth David Kaunda which occurred on Thursday, June 17, aged 97.
In a letter signed by AMECEA Chairman Bishop Charles Sampa Kasonde, the Prelate describes the late Head of State as an African hero who not only served the people of Zambia but also other AMECEA countries and beyond.
"Dr. Kenneth Kaunda shall be remembered by many for his passion to unite and build his country as "One Zambia, One Nation," Bishop Kasonde of Zambia's Solwezi Diocese expressed President Kaunda's desire of a united country adding that, "He also stands out as an African hero who fought against colonialism and for the abolition of apartheid in South Africa."
"Indeed, his contribution to the democratization of the countries in AMECEA region and beyond is highly acknowledged as he hosted so many like-minded liberation fighters from across the continent," the Prelate underscored.
In the letter addressed to ZCCB's President Archbishop Ignatius Chama of Zambia's Kasama Archdiocese, Bishop Kasonde noted that the late President was a man of faith who motivated many people through his talents and deeds.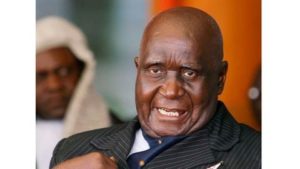 "As AMECEA, we join you, his immediate family and all the people of Zambia in mourning this great son of Africa because we recognize him, first as a man of faith who inspired so many people through his speeches, writings, love for music and a great sense of humor," the AMECEA Chairman highlighted and continued, "Indeed, he goes down in history as a founding father of the African Unity, a statesman and a liberator."
The Bishop asked for continued prayers for the family and all Zambians as "the African icon joins the large family of our African ancestors."
According to reports, the first Head of Zambia's State died at a military hospital in the capital, Lusaka on Thursday, June 17, after suffering from pneumonia. The country declared 21 days of national mourning for the President who ruled his country for 27 years from 1964 after independence to 1991.
Zambia's founding President will be buried at the presidential burial site in Lusaka, on July 7, in a private ceremony after being taken to the country's 10 regions on request by his family.
In light of the Covid-19 pandemic, there will be no viewing of the body.