AMECEA: African Culture Should Guide Our Communications Strategy for Child Safeguarding: AMECEA Secretary General
Sr. Jecinter Antoinette Okoth, FSSA
As the Association of Member Episcopal Conferences in Eastern Africa (AMECEA) Pastoral Department develops a communications strategy as a guiding tool for child safeguarding activities, the AMECEA Secretary General Fr. Anthony Makunde has asked the consultative team to be mindful of the African culture when coming up with the document.
Addressing the responsible team on Wednesday, August 26, as the team commenced working on the communications strategy the Secretary General said, "Let us consider our African culture as we come up with this strategy that we need in the AMECEA region to take as guide. And let us look at it from our own local context and not be too theological."
"Our African culture has been that of safeguarding, nurturing and caring for children. Therefore, let us come up with a communications strategy that will help to wipe the tears of an African child which seem to be too much at this particular time."
Referencing the Holy Family of Joseph, Mary and Jesus as an ideal family, the Tanzanian cleric asked the team developing the document to ensure that the communications strategy considers the ideal African family that safeguards and protects a child.
"Today, we can say that we are in the transition stage. We have learnt a lot from other cultures and other civilizations and we are trying to put them into our own life hence mixing things up," Fr. Makunde highlighted and continued, "No wonder if you look at the children who are abandoned and those who are on the streets, most of the times it is not out of their own will but due to the brutality coming from those who are supposed to care for them, those who are to guide them and those who are to protect them."
Therefore, the Secretary General advised, "let us come up with the communications strategy that will help prevent us from getting into trouble of early pregnancies which at times have to do with close relatives."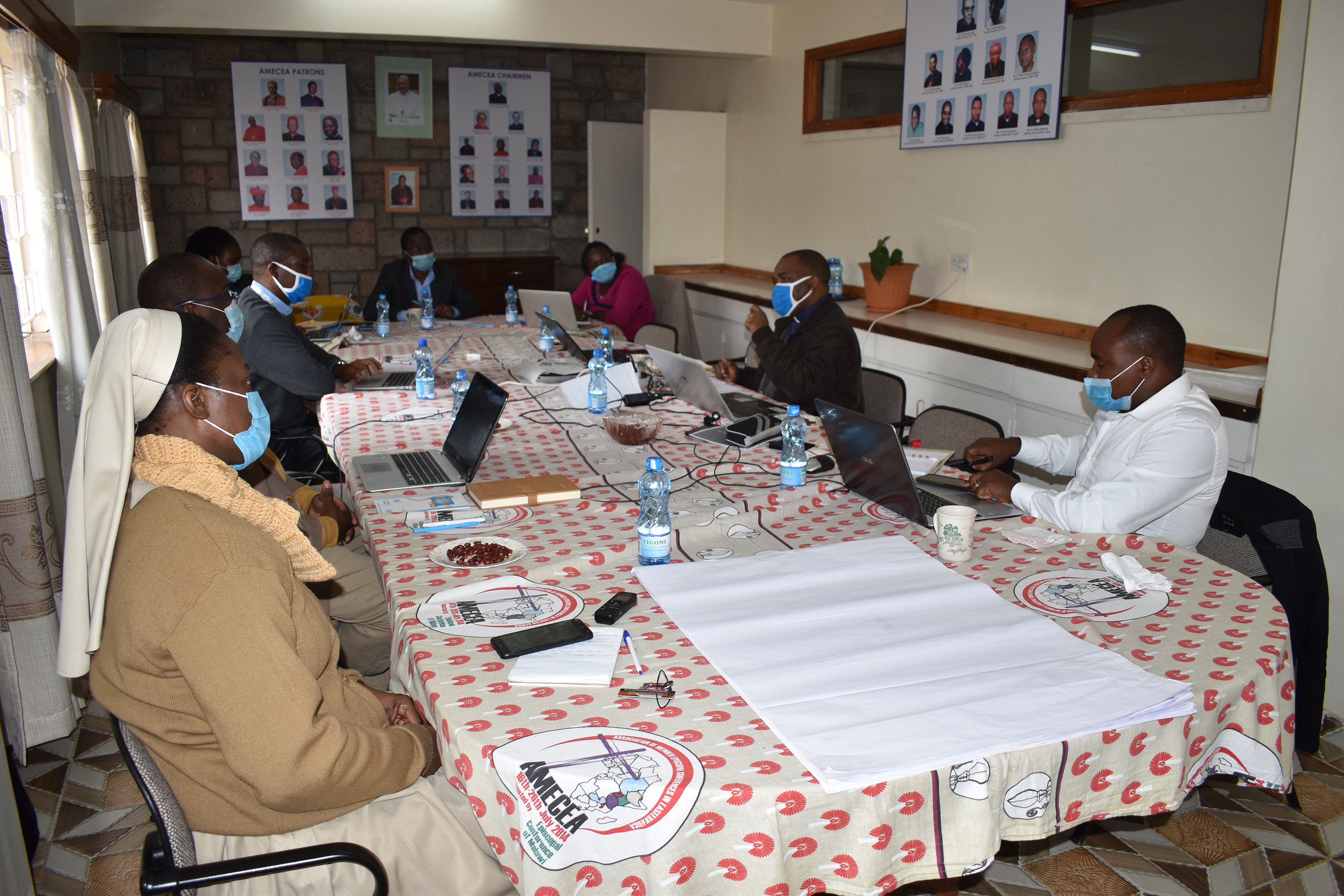 According to the Coordinator of AMECEA Pastoral Department Fr. Emmanuel Chimombo, there is need to have a proper guideline on how communication about issues to do with child abuse ought to be done since "people were skeptical about issues of child safeguarding."
"Let us stress the positive aspect of this matter," because there is "a bit of negativity about the whole issue on child safe guarding and some people think it is not a concern in Africa," Fr. Chimombo narrated.
On his part, the AMECEA Child Safeguarding Officer Mr. George Thuku, appealed that the document be developed in a way that it achieves "a better understanding of the issues happening in the conferences, better understanding of the nature of cases being dealt with currently and also help to effectively communicate specific messages of safeguarding from the Pastoral office to the conferences and beyond."
Besides, the communications strategy should help to "keep an active flow of information from the people we are working with in the Conferences and also from them to us as they fit into the work we are doing," Mr. Thuku explained.
The consultative team comprised of officers from AMECEA departments, communication experts from the Comboni Missionaries' New People Publication and Bayard Publications' Living With Christ, and a legal professional from the Catholic University of Eastern Africa's Social Justice and Ethics department.