Luke Bisani
Membership for the Association of Consecrated Women in Eastern and Central Africa (ACWECA) has registered success stories for the past years in the region of the Association of Member Episcopal Conferences in Eastern Africa (AMECEA).
On the third day of their 18th Plenary Assembly, the Member Associations shared stories about their achievements and future plans of their missionary work in their respective countries.
Tanzania Catholic Association of Sisters (TCAS) indicated that sixty-two Sisters have completed their studies at Morogoro Formation Centre, while 30 are due to complete their studies in October 2021.
TCAS also reported that they distributed Covid19 protective gears to member congregations in response to the Covid-19 pandemic and carried out sensitization campaigns in schools and places where nuns visit for evangelization.
Despite these successes, TCAS indicated a few hiccups faced in the past years which include Congregations having less commitment to the Association and lack of sustainable generating income projects to facilitate the daily running of the office.
On their part, Zambia Association of Sisterhoods (ZAS) shared about continued holistic formation and a nine-month program in Leadership and Formation, a course that has witnessed 54 Sisters from different countries being trained in leadership and formation course since 2018.
ZAS further indicated that a number of initiatives have been run in collaboration with member Congregations. These include trainings on positive parenting, family preservations and financial support for economic strengthening to families, to mention a few.
ZAS further indicated their role in raising awareness on human trafficking, gender-based violence and child safeguarding in partnership with the commission for Justice, Peace, and Integrity of Creation (JPIC) in the country.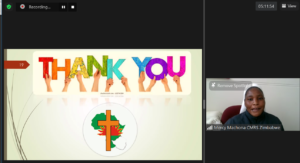 Consecrated women in Zambia have also strengthened their governance, organizational management and programs implementation capacities through the revision of key workplace policies including the statutes of the Association.
Also sharing their success stories, the Association of Women Religious Institutes in Malawi (AWRIM) indicated that they have produced a formation handbook to provide uniformity of knowledge and skills among novices under different Congregations in the country.
AWRIM further shared their planned training on Spiritual Direction that targets perpetually vowed Sisters in the country to be conducted in October this year. The Association also indicated that they are constructing a centre in Balaka a district in the southeastern part of the country, which will allow nuns to pursue education in Philosophy and Religious studies at the Inter-Congregational Institute (ICI).
The five-day ACWECA 18th Plenary Assembly is being conducted under the theme "Re-Awaken the Prophetic Role: A Call for Re-formation Towards Holistic Transformation in ACWECA region today (Jn 17: 16-18)"
The Membership has since tapped knowledge from keynote speakers from other continents around the world as they strive to reflect on their prophetic role. END