Habtamu Abrdew Beture
A delegation led by the General Secretary of the Catholic Bishops' Conference of Ethiopia, Abba Teshome Fikre has on April 18, 2013 visited the conflict area of North Shoa Zone, on a special mission called by Cardinal Berhaneyesus Demerew Souraphiel the Metropolitan Catholic Archbishop and President of the Catholic Bishops' Conference Ethiopia (CBCE).
The delegation travelled to Debre Berhan the capital of North Shoa Zone and held discussion with the zonal administration officials. Accompanying the Secretary General of the General Secretariat were the officials from the Archdiocese of Addis Ababa, Cistercian Fathers and representatives of the Catholic Relief Service and CAFOD, SCIAF and TROCAIRE Ethiopia.
The delegation expressed condolences to the victims of the conflict in the zone on behalf of Cardinal Berhaneyesus and assured them that the Catholic Church will continue to work for peace to prevail in the area, to pray that God grant them peace and for comfort for the families of the victims.
The Delegation also expressed that the Church is ready to work with other religions, communities and contribute to the immediate rehabilitation of the affected people. The Church also works for the prevalence of peace, stability, and for the restoration of a culture of coexistence in the community.
During the meeting, the zonal administration briefed the delegation on the recent security crisis in Ataye, Shoa Robit and other parts of the zone. According to the explanation, the conflict happened in five parts of the zone and resulted in deaths, injuries, property damage and displacement. According to the data collected so far, (253,000) two hundred fifty-three thousand people have been displaced in the zone.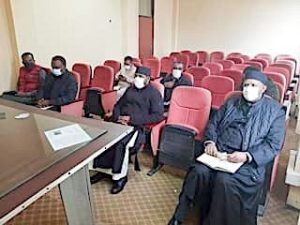 The IDPs are reportedly sheltering in Debre Berhan and other neighboring parts with support from the government, civil societies, relatives and family members while those with the capabilities have rented a room in common. The local community's support for the IDPs is encouraging, and the emergency services from the government and the Ethiopian and International Red Cross also have eased the crisis.
The delegation discussed in detail how the Catholic Church can provide support in the area, ways to reach out to victims and understand their situation. As a request, they asked the delegation for support in terms of cooking oil, nutritious food, medicine, medical supplies, cooking utensils, stoves, sanitary ware are in urgent need of support, especially for children and women.
The delegation, on its part, said that it is the wish of the church to respond as soon as possible and coordinate her efforts in collaboration with the partners so as to take appropriate measures. The delegation has also recommended that the government should work hard to ensure lasting peace and security in the area.
The Delegation added that the Catholic Church is ready to play its part in the peace building process as well.